Description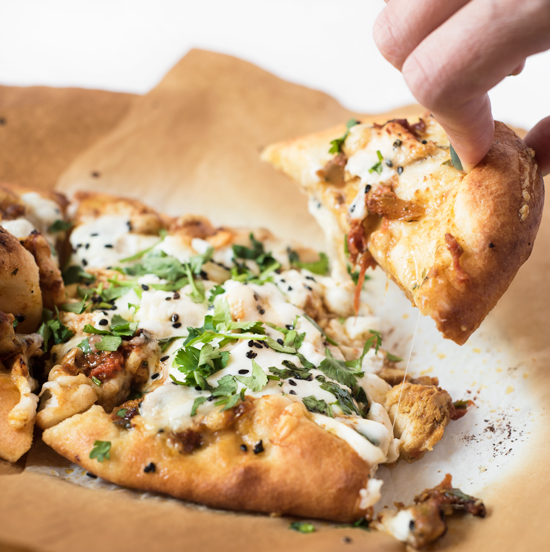 Author:
Kathleen | HapaNom
INGREDIENTS
Naan dough
Chicken Tikka Masala, shredded or roughly chopped
fresh lime juice
provolone cheese, grated
buffalo mozzarella, torn (regular grated mozzarella is ok too)
black sesame seeds
cilantro, roughly chopped
extra virgin olive oil
INSTRUCTIONS
Place a pizza stone or baking sheet on the middle rack and preheat the oven to 500 degrees F.
Following the naan recipe, divide the dough into 8 pieces (per step 4 of the naan recipe), and working with one ball of dough at a time, roll out to a ¼-inch thickness (keep the balls of dough you are not immediately using under a tea towel). Transfer the rolled out piece of dough to a piece a parchment paper.
Brush the edges of dough with the olive oil.
Top the rolled-out dough with the leftover Chicken Tikka Masala (it can be right out of the fridge). Squeeze a bit of fresh lime juice overtop of the chicken. Sprinkle with the provolone, mozzarella, and black sesame seeds.
Carefully move the pizza to the oven, using the parchment paper. Place the pizza (including the parchment paper) on to the pizza stone or baking sheet. If using a stone, cook for 8-10 minutes, until the cheeses are melted and the crust is lightly browned. If you're using a baking sheet cook for 10-15 minutes.
Remove from the oven and sprinkle with the cilantro. Serve and enjoy!