Description
Veggie Pasta Salad with Zesty Italian Dressing
Yields 12 servings
SODIUM CONTENT: 20 mg per serving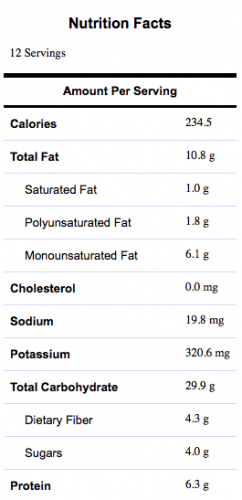 INGREDIENTS
SALAD:
1 lb. dry rotini (or similar pasta)
1 medium red onion, diced
2 c. grape tomatoes, halved if desired
1 15-oz. can no-salt-added chickpeas, drained and rinsed
1/3 c. low-sodium olives, sliced
1 medium cucumber, peeled, seeded and diced
1 medium sweet bell pepper, diced
3 c. chopped fresh broccoli
1 small/medium yellow squash, diced
1 small/medium zucchini, diced
DRESSING:
4 T. olive oil
4 T. canola oil
4 T. distilled white vinegar
4 T. apple cider vinegar
4 T. water
1 t. onion powder
1 t. garlic powder
1 1/2 t. sugar
1 1/2 t. dried oregano
1 t. dried parsley
1 t. no-salt-added all-purpose seasoning
1/4 t. dried basil
1/4 t. freshly ground black pepper
1/8 t. dried thyme
DIRECTIONS
Cook the pasta according to directions, omitting salt. Drain and set aside.
Prepare all the veggies and place in an extra large mixing bowl. Add pasta. Set aside.
Measure all of the dressing ingredients into a small mixing bowl and whisk well to combine. Pour dressing over the salad and toss well to coat.
Serve salad immediately or cover and refrigerate until serving.