Mashed Sweet Potatoes with Caramelized Onions, Brie and Sage
RecipeGirl
SKU:
Mshswpts - Recipe
Recipe
Width:
7.00 (in)
Height:
7.00 (in)
Depth:
7.00 (in)
Mashed Sweet Potatoes with Caramelized Onions, Brie and Sage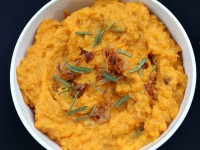 Ingredients:
3 medium to medium-large (orange flesh) sweet potatoes, peeled
1 medium onion, peeled and sliced thinly
1 tablespoon olive oil
1/2 teaspoon granulated white sugar
1 Tablespoon salted butter
1/2 cup brie pieces (see tips below)
1/4 to 1/2 cup nonfat milk
1 tablespoon julienned fresh sage (see tips below)
salt and freshly ground pepper
Directions:
1. Place potatoes in a large pot with boiling water. Boil 25 to 35 minutes, or until a fork can be pierced easily in the center of the largest potato. Move potatoes to a large bowl.
2. While the potatoes are cooking, prepare the caramelized onions. Heat the olive oil in a large skillet over medium-high heat. Add the onions and cook 15 to 20 minutes, stirring often, until they are browned and caramelized. Add the sugar in the final stages of cooking. Turn heat down to medium, as necessary.
3. Mash the hot potatoes with a potato masher until there are no visible lumps. Add the butter and brie and stir until melted and incorporated. Stir in 1/4 cup milk, adding more if the potatoes aren't thin enough for you. Then mix in caramelized onions and sage (save a little of each for garnish, if desired). Season to taste with salt and pepper.
Tips:
*for the Brie- cut off the rind, and tear/cut chunks until it amounts to about 1/2 cup.
*to julienne the sage, stack several leaves on top of each other and slice into very thin slivers.
*This recipe may be prepared up to one day ahead and warmed up in the microwave.