Description
Chicken Fajita Burgers
A party of flavours in your mouth! Fire up the grill and make these spicy burgers this summer.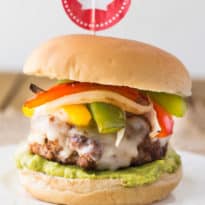 Ingredients:
8 Dempster's Hamburger Buns
2 tsp chili powder
1 tsp cumin
1 tsp paprika
1 tsp cayenne pepper
1/2 tsp garlic powder
1/4 cup breadcrumbs
2 lb ground chicken
1 red pepper, cut into strips
1 green pepper, cut into strips
1 yellow pepper, cut into strips
1 onion, sliced into strips
1/2 cup guacamole
8 slices Monterey Jack cheese
Sour cream and salsa for dipping, if desired
Directions:
In a large bowl, add ground chicken, chili powder, cumin, paprika, cayenne pepper, garlic powder and breadcrumbs. Using damp, clean hands, combine ingredients together. Shape mixture into eight patties.
Preheat barbecue to medium high heat. Place peppers and onions in a disposable aluminum barbecue tray and cover with aluminum foil.
Once heated, place burgers and vegetables on the grill. Cook burgers for 8 minutes and then flip over. Remove aluminum foil covering from vegetables and continue to cook.
Cook burgers and vegetables an additional 8 to 10 minutes or until a meat thermometer reaches 165F on the burgers. Add cheese during last minute of cooking time to melt on burgers.
ASSEMBLY
Spread 2 to 3 tablespoonfuls of guacamole on the bottom of a Dempster's Hamburger Bun. Top with chicken burger, veggies and bun. Serve hot with salsa and sour cream for dipping.