Description
BROCCOLI CHEESE LOADED TWICE BAKED POTATOES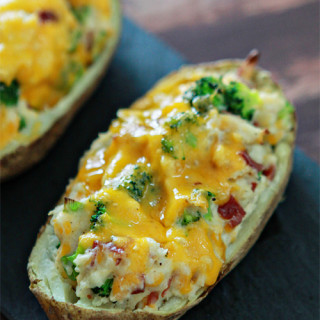 INGREDIENTS:
4 russet potatoes
1/2 cup sour cream
2 ounces cream cheese, softened
2 - 4 tablespoons chicken broth, as needed
6 ounces chopped broccoli florets, steamed
1 cup Tillamook® Medium Cheddar Cheese, grated
1 green onion, sliced
8 slices cooked bacon, crumbled
DIRECTIONS:
Preheat oven to 375 degrees F.
Using a fork, pierce the potatoes all over. Cook the potatoes until tender.(See this link for the instructions I like best for making a perfect baked potato.)
Or you can simply use the "baked potato" function on your microwave if you prefer.
Cut the potatoes in half and scoop out the insides into a medium sized bowl. Reserve the potato shells and place on a baking sheet.
Combine the potato insides with the sour cream and cream cheese and mash using a fork or a potato ricer. Stir in the broth as needed until you reach your desired consistency. Then, stir in the broccoli, half of the cheddar cheese, green onion, and the bacon.
Divide the potato mixture evenly between the potato shells and top with remaining 1/2 cup of cheddar cheese. Place in the oven and bake at 375 degrees F until heated through and the cheese on top is melted.