Description
Beet Pesto Pizza with Kale and Goat Cheese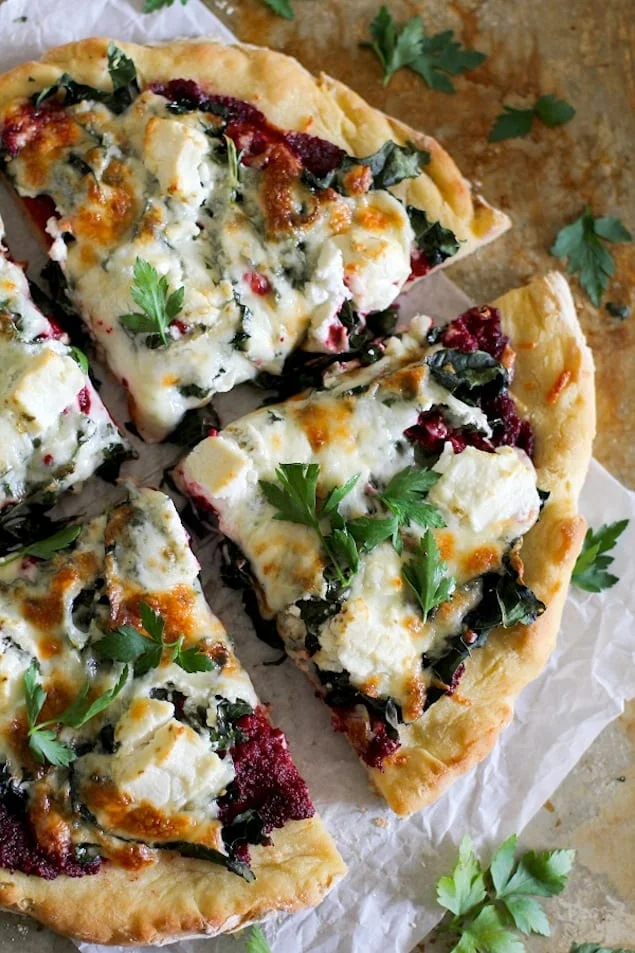 Total Time
1 hour 30 mins
Beet Pesto Pizza with Kale and Goat Cheese is never not a good idea. The slightly crisp goat cheese with the rich kale and nutty, creamy beet pesto is a match made in pizza heaven.
Ingredients
1 lb gluten-free pizza dough
1 cup beet pesto
2 cups kale leaves, thinly sliced*
1.5 cups mozzarella cheese, grated
2 ounces goat cheese
Beet Pesto
1 cup red beets, chopped and roasted (about 1 medium beet)
3 cloves garlic, roughly chopped
½ cup walnuts, roasted
½ cup parmesan cheese, grated
½ cup olive oil
2 tablespoons lemon juice
Salt to taste
Instructions
Beet Pesto
Preheat the oven to 375 degrees F.
Wash and scrub the beet and pat it dry. Chop it into ½" cubes and place it on a sheet of foil. Wrap the chopped beet in foil, making a foil packet.
Place the packet on a baking sheet.
Roast in the oven for 50 minutes, or until beets are soft and juices are seeping out.
Allow beets to cool completely.
Add all ingredients except for the oil to a food processor or blender and pulse several times.
Leaving the food processor (or blender) running, slowly add the olive oil until all ingredients are well combined. If the pesto is too thick for your blender to process, add a small amount of water until desired consistency is reached.
Pizza
Prepare the beet pesto and the pizza dough.
Preheat the oven to 415 degrees F.
Dust gluten-free flour (or cornmeal) on a baking sheet and press or roll the dough to desired thickness.
Bake the dough for 5 to 7 minutes with no toppings.
Remove the crust from the oven and spread the beet pesto over it. Add the kale leaves, followed by the goat cheese and mozarella. Note: the kale will cook down in the oven.
Bake pizza for 20 to 25 minutes or to desired crisp.
Allow pizza to cool 5 minutes before serving.
Notes
I used lacinato (dino) kale