Classic Fig Jam (Organic)
Stonewall Kitchen
SKU:
Orgfigjamswk
Width:
6.00 (in)
Height:
6.00 (in)
Depth:
6.00 (in)
Classic Fig Jam (Organic)
A richly sweet and distinctive organic jam 8.5 oz
Figs are a unique and delicious fruit with a distinctive, almost honey-like taste and crunchy seeds. So to create something really different, we combined ripe figs, sweet, crisp apples and a dash of tart lemon for a wonderfully full-flavored organic jam that you're sure to love.
It's interesting to note that edible figs are one of the first plants cultivated by humans, were widespread in ancient Greece and were a common food source for the Romans and for good reason—they're delicious! A distant cousin within the mulberry family, figs have a wonderful hearty texture with an enjoyable, sweet taste that's all their own. Wow, our wonderfully unique, Organic Fig Jam is so good, it just may go down in history!
A unique and delicious jam
Spread on breakfast breads or use in desserts
Ingredients
Cane Sugar*, Water, Fruit Pectin, Apples*(apples*, ascorbic acid, citric acid, salt), Fig Paste* (fig paste*, fig concentrate*), Fig Concentrate* (soluble fig solids*, water), Lemon Juice Concentrate*, Citric Acid. *Organic
Gluten Status
Non-Gluten Ingredients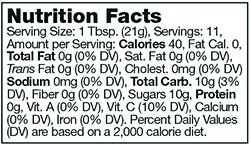 The nutritional information presented above may differ slightly from that seen on purchased products. When discrepancies occur, information on the product label(s) is considered the most accurate.