Balsamic Gran Marnier Pear and Blackberry Crisp
Mod Squad Martha
SKU:
Balsgrmarpbl
Recipe
Width:
7.00 (in)
Height:
7.00 (in)
Depth:
7.00 (in)
Balsamic Gran Marnier Pear and Blackberry Crisp
July 11, 2019
This flavorful crisp is a wonderful addition to any holiday desert table! With just a few simple ingredients you'll quickly have a dish that's sure to make everyone happy. Find the recipe
on the Draper James blog now
!
Let's Eat, Y'all: A Baked Cranberry & Blueberry Brie Recipe + More From Mod Squad Martha
If there's one thing we can all bond over during the holiday season, it's food. Especially in the South.
Melissa Ann Barton, also known as Mod Squad Martha, a nickname given by her Nashville friends as a nod to her many talents, knows this better than almost anyone.
She credits the "love of two incredible parents who made an ordinary kid feel extraordinary" and "strong Southern roots from the Appalachian mountains" for almost everything in her life.
"Everything" includes Mod Squad Martha Catering and her new project with Draper James muse Emmylou Harris, Crossroads Campus in Nashville. Melissa Ann says, "Our goal for 2018 is that Alan (my husband) and I are going to work with Crossroads to help them set up a commercial bakery which can one day produce Mod Squad Martha wholesome pet treats made by the kids! "
When we talked the perfect Thanksgiving recipes with Melissa Ann, we couldn't help but hope she would make something with her Mod Squad Martha Blueberry Vinaigrette.
Melissa Ann certainly delivered, two times over, with her Baked Cranberry & Blueberry Brie and Balsamic Gran Marnier Pear and Blackberry Crisp recipes.
Keep reading to get Melissa Ann's recipes and hear more about her Southern roots and Thanksgiving traditions.
Tell us about these recipes.
I love fruit and passed that on to my son, Graham. My Daddy's favorite desserts are any kind of fruit pie, crisp, or crumble. When Graham was little, he would ask me to pick the pears out in my Bluebird spinach salads. That was my light bulb, thinking how the Bluebird flavor profile took those pears to another level.
Blackberries are my Daddy's favorite, so this crisp was born. It was a family favorite as well, as a hit with clients when paired with homemade vanilla bean ice cream.
The brie was created for a record label Thanksgiving celebration. I needed a beautiful and seasonal appetizer for the table. I love brie but wanted something unique to top it. It is tart, citrusy, sweet and delivers a touch of smokey heat. Both of these deliver a deep flavor profile that keeps giving.
Why is it the perfect recipe for Thanksgiving?
Thanksgiving is about tradition in the South, and the classic dishes are important.
The fun part of that is elevating those classics. Timeless with a twist of hip are words I live by. Both of these dishes are plays on familiar flavors taken to another level, but pleasing to all generations and palettes. Guests love something to snack on before the big meal, and the brie is festive. The crisp is a wonderful addition to the pumpkin pie. It always makes me smile to watch friends and family smile as they eat food that has been prepared with so much love.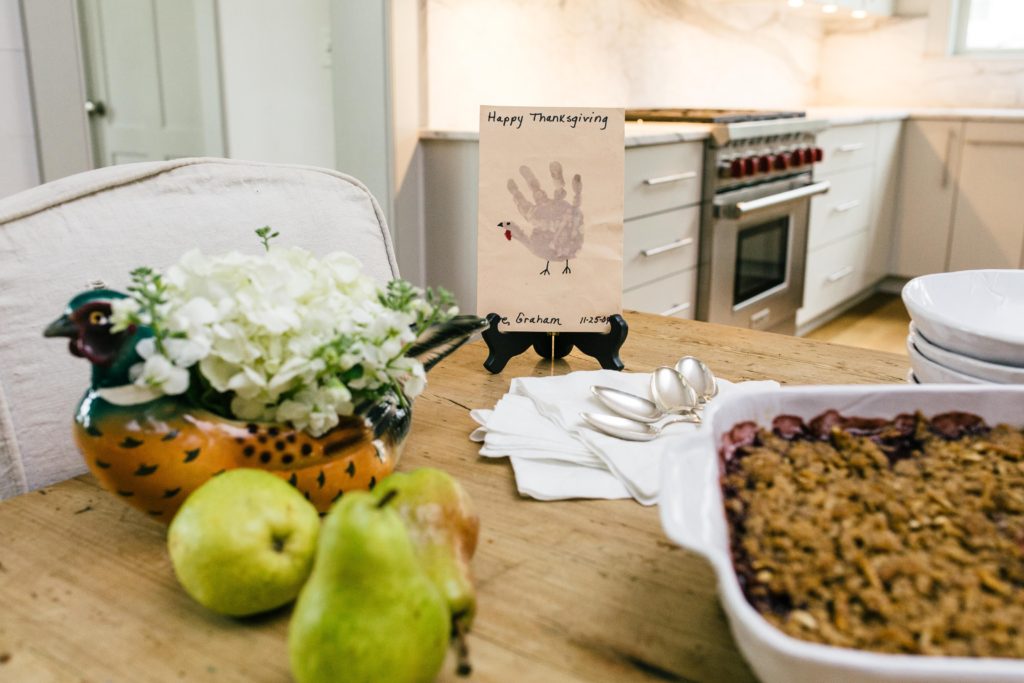 What's your favorite Thanksgiving tradition?
My favorite tradition, started when I was young and passed on to Graham, is delivering baskets filled with things we take for granted and delivering them to nursing homes or the home-bound elderly.
We also open our doors to anyone who needs someplace for fellowship. "From those who have been given much, much will be required" are words we live by. I also love using every fancy thing passed down from both sides of the family, especially the bird in the picture, passed down three generations in my family.
What drew you to this dress?
This is my first colorful piece of clothing, but I loved the silk roses around the waistline and what a fun dress for the holidays. It is pretty paired with heels, but I am also going to rock it with my fur scarf and booties. I love the classic with that element of surprise!
Favorite Southernism?
My favorite Southernism is one my Daddy told me and his Daddy told him: "Talks cheap, it takes money to buy whiskey." It was his way of telling me that actions always speak louder than words.
Recipe for Baked Cranberry & Blueberry Brie with figs, applewood smoked bacon, and toasted pumpkin seeds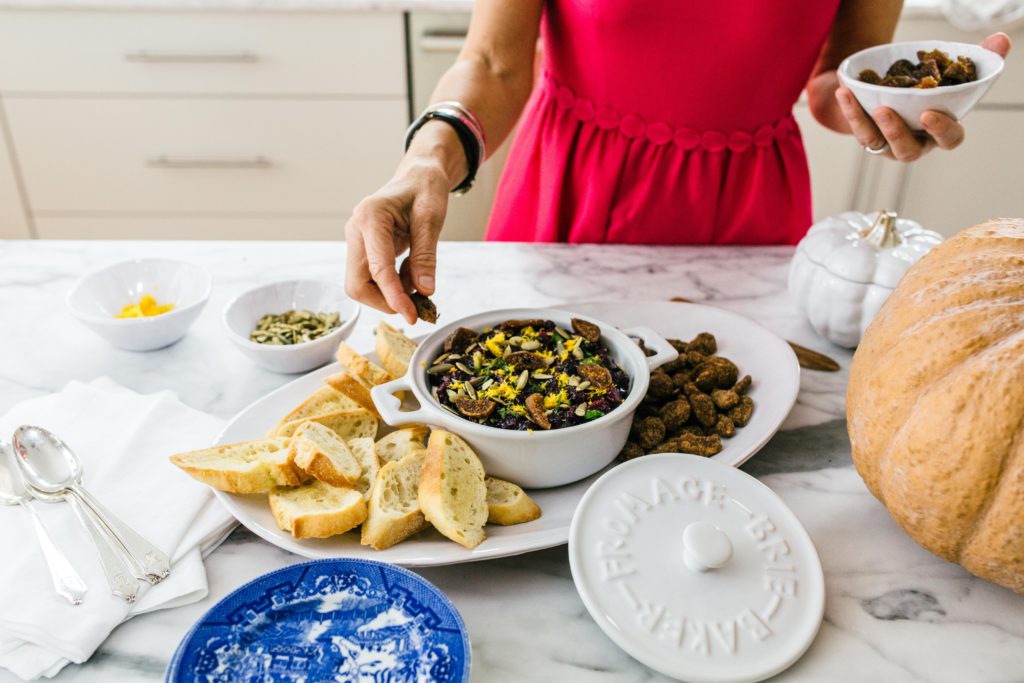 1 1/2 cups fresh cranberries
1/2 cup water
3 tablespoons sugar
1 cup fresh or frozen blueberries
Juice and zest of 1 orange, reserving a small amount of zest for topping
1 teaspoon adobo sauce from chipotle chiles
1 teaspoon cardamom
1/4 cup honey
3 tablespoons Bluebird Vinaigrette
3 slices thick applewood smoked bacon, cooked and chopped
5 oz mission figs, sliced into quarters
3 tablespoons toasted pumpkin seeds
2 teaspoons cilantro, finely chopped
(2) 8 oz Brie wheels or 1 19 oz
Crostini/Crackers
Spiced Pecans
Directions
Preheat oven to 300 degrees.
To make cranberry blueberry topping:
Combine cranberries, water and sugar in medium saucepan over medium heat until the cranberries pop.
Reduce heat and add the next 8 ingredients, stir and simmer for 15 minutes.
Remove from heat and set aside.
Note: This can be made in advance and refrigerated.
Place Brie in baking dish/dishes with the rind on
Note: keeping the rind will keeping your toppings from sinking into the Brie.
Bake for about 15 minutes or until soft and warm.
Let Brie cool slightly and spread on the topping.
Arrange figs on top and sprinkle with the pumpkin seeds, orange zest, and cilantro.
Serve with crostini/crackers and spiced pecans.
If there are leftovers, use to top a burger or stuff pork tenderloin or chicken or make quesadillas!
Recipe for Balsamic Gran Marnier Pear and Blackberry Crisp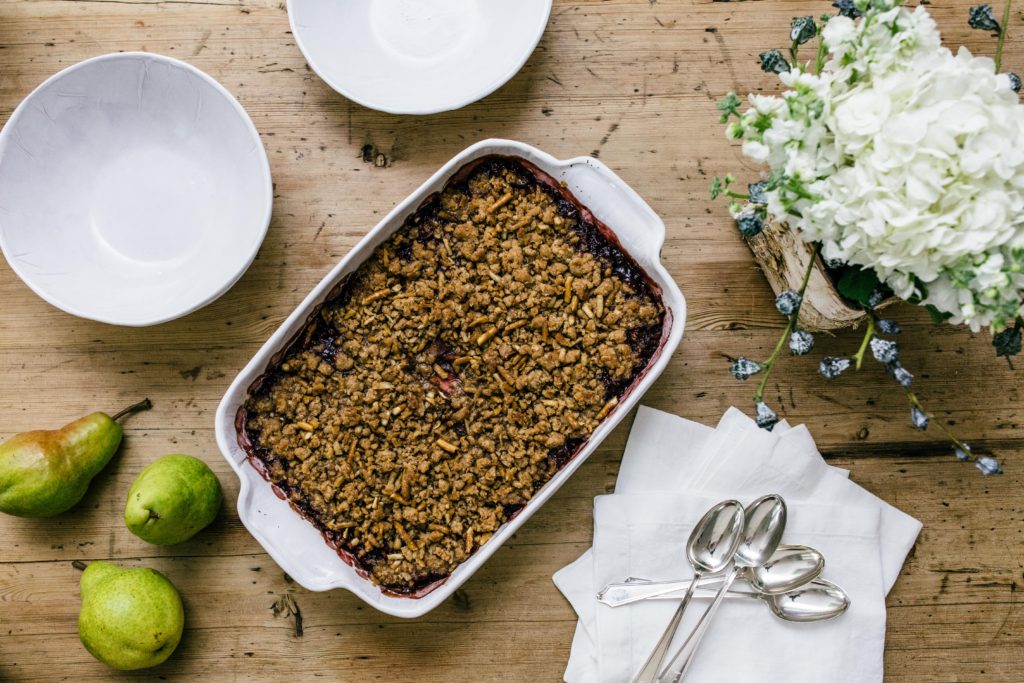 1/2 cup brown sugar
1/4 cup honey
1/2 cup granulated sugar
1 tablespoon all purpose flour
1/4 teaspoon nutmeg
1/4 teaspoon cloves
1/2 teaspoon garam masala
1/2 teaspoon cinnamon
1/2 teaspoon cardamom
1/2 teaspoon five spice powder
1/2 teaspoon all spice
1 teaspoon freshly grated ginger
3 tablespoons Bluebird Vinaigrette
1/4 cup Gran Marnier
2 tablespoons lemon juice
1/4 cup apple or pear cider
6 tablespoons unsalted butter, sliced in smaller pieces
6 large pears ( I prefer Bosc) sliced thin but strong enough to be tossed
2 pounds of blackberries
Directions
Preheat oven to 325 degrees
In a large sauce pan over medium heat, combine all ingredients except for fruit and butter until sugar is mostly dissolved. Add fruit and carefully stir.
Pour mixture into 13 x 9 baking dish and top with butter pieces.
Bake for 25-30 minutes.
Remove from oven and let sit to cool while topping is made.
Increase oven temperature to 375 degrees.
TOPPING:
1 1/4 cups all purpose flour
1 1/2 cups crushed pretzels
1/2 cup oats
1 cup brown sugar
1/2 teaspoon sea salt
1 teaspoon cinnamon
2 teaspoons vanilla
10 tablespoons unsalted butter, well chilled, cut into small squares
Combine all ingredients but butter and vanilla
Add chilled butter and work with 2 knives or by hand until well combined.
Add vanilla and work again.
Scatter crumble over fruit, leaving a small hole in the center.
Note: You will have leftover crumble which can be refrigerated or frozen to use later to top ice cream or fruit.
Bake for 30 minutes or until golden brown.
Let stand for 15-20 minutes before serving with vanilla bean ice cream.
Photos by Nickie Stone Photography