Bacon Balsamic Deviled Eggs
RecipeGirl
SKU:
Bcdevege
Recipe
Width:
7.00 (in)
Height:
7.00 (in)
Depth:
7.00 (in)
Bacon- Balsamic Deviled Eggs
Deviled eggs gone gourmet with the addition of a few special ingredients. I served these as an appetizer at an Easter Feast, and they were gobbled up quickly!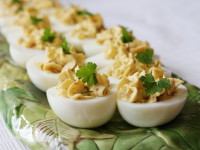 Ingredients:
12 large eggs
4 slices bacon, cooked until crisp and chopped finely
1/2 cup mayonnaise
1 Tablespoon red onion, grated
1 teaspoon granulated white sugar
1/2 teaspoon balsamic vinegar
1/8 teaspoon celery salt
1/4 teaspoon pepper, freshly ground
a few sprigs of Italian flat-leaf parsley, for garnish
Directions:
1. Place eggs in a large pot in a single layer. Fill the pot with water to cover the eggs by about an inch. Cover and bring water to a boil. Turn off heat and let eggs sit (covered) in hot water for 15 minutes. Drain. Cool the eggs under cool running water in the sink.
2. Peel the eggs and halve lengthwise. Place the cooked yolk in a medium bowl and place the white halves on a serving platter (cut-side up).
3. Mash yolks with a fork. Add bacon, mayonnaise, onion, sugar, vinegar, celery salt and pepper. Stir until thoroughly combined; taste and adjust/add seasonings, as needed.
4. Spoon the mixture into the egg white halves or use a piping bag with a large opening tip. Garnish with parsley. Refrigerate, lightly covered, until ready to serve.
Tips:
*If preparing this recipe as GLUTEN FREE, be sure to use GF mayonnaise and GF bacon.
*I always hard-boil a few more eggs than the recipe calls for in case of breakage during boiling. You can always use the left over to make egg salad sandwiches.