Avocado and Heirloom Tomato Toast with Balsamic Drizzle
Blissful Basil
SKU:
Baltstavc - Recipe
Recipe
Width:
7.00 (in)
Height:
7.00 (in)
Depth:
7.00 (in)
Avocado + Heirloom Tomato Toast with Balsamic Drizzle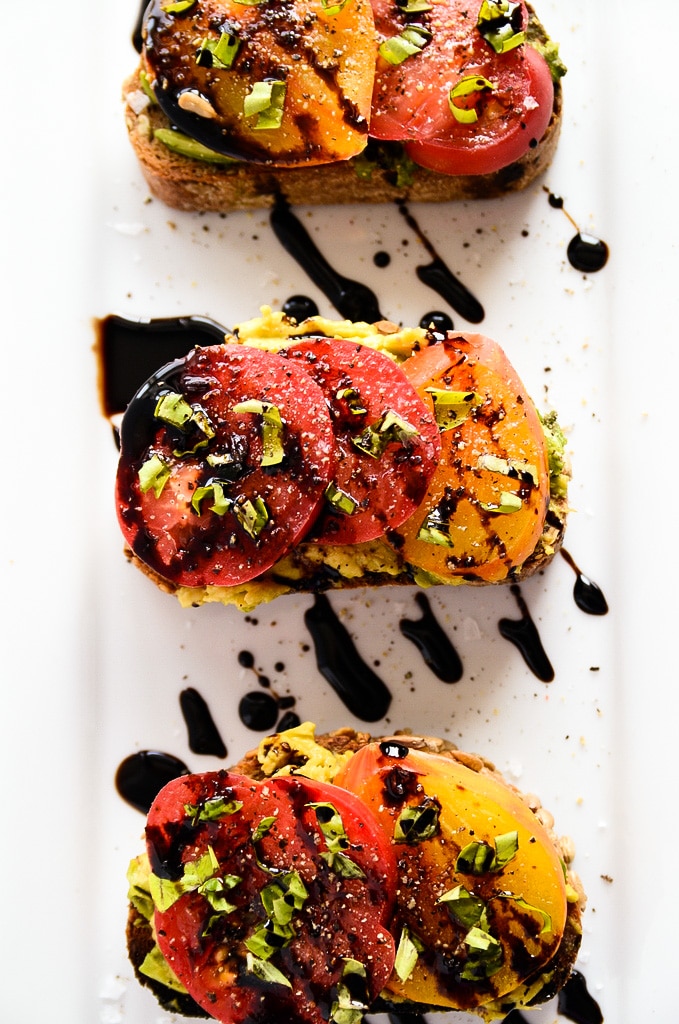 Author:
Ashley Melillo | Blissful Basil
Recipe type:
Sandwich, Snack
Ingredients
½ cup balsamic vinegar
2-3 slices hearty, seeded bread
olive oil
2 small heirloom tomatoes, thinly sliced
½ a ripe avocado
¼ cup fresh basil, chopped
sea salt
black pepper
Instructions
Make the balsamic reduction by adding the balsamic vinegar to a small saucepan over medium-high heat. Bring the balsamic to a boil, whisking constantly. Reduce heat and simmer for 10-15 minutes or until balsamic has reduced by half and is thick enough to coat the back of a spoon. Make sure you keep an eye on it -- it burns quickly.
Slather each slice of bread with a drizzle of olive oil and toast.
Evenly divide the avocado between the pieces of toast and use the back of a fork to smash the avocado. Layer the sliced tomatoes on top, sprinkle with fresh basil, and drizzle with the balsamic reduction.
Garnish with sea salt and black pepper.
Serve immediately.